Soooo…. here it is.  4:17 am on a Monday morning.  What am I doing?  Trolling the internet looking for networking and business building ideas in and around town this week.  I always start with my notifications and then the things going on in the Events section of Facebook.  It never fails that I always find myself lost in some article that I found from clicking on a link somewhere on Facebook.  I have learned some pretty amazing things and added a billion things to my useless knowledge bank from these clickable links.  However, I have also wasted several…. hours (ahem) minutes, reading through these articles.  Today I was lucky enough to stumble upon a gem… I think.
The link that I saw said, "7 Surprising Signs You're Not Getting Enough…"  So, I clicked on it to find out what I may or may not be getting enough of.  This took me to an article at healthissues.pw about not getting enough… WATER!  At this point, I figured I had taken the time to click the link so I might as well see if I had any of the signs.
One of the first things it states is that your body is mostly water and even goes so far as to give percentages of water that different body parts are.  Percentages like, Your brain and heart are 73% water and even, bones are 31% water.  I'm not sure where they got that information or if it is even true.  However, I did find several websites that stated the same facts like water.usgs.gov, factslides.com and reference.com.  I generally hate to read things on the internet that force me to click 72.3 billion pages to get all of the information, but this one only had a few pages and also had already grabbed my attention with the opening, so I was willing to click each page to read the full article.
Here are the 7 signs they list as common symptoms you may be suffering from but not associating them with dehydration:
Sleepiness. – WHAT?!  That's like my middle name!  I have lengths of time where I only sleep 3 hours a night for weeks and then there are sometimes that I sleep an entire day away (and then hate myself for wasting such valuable time.)   It said that water allows your brain to focus and when it can't it shuts down by inducing sleep.  That explains a lot!  Ok, now they really have my attention.  I definitely suffer from this symptom.
Hunger. – WHAT?!  Do you even know me?  Food is like my favorite thing ever!!  Especially if it rhymes with paco, saco, maco… you get the idea.  But seriously – I am ALWAYS hungry!  So things like hunger and cravings for sweets can mean your body is actually craving water.  Hmmm, interesting.
Blood Pressure Spikes. – Okay, so I don't really struggle with this ailment, that I know of.  There have been times where I showed signs of high blood pressure and have checked it only to find I was normal.  Well… as normal as the kiosk in Walmart said I was.  Just incase though, I think I'll try drinking a glass or two of water next time I have those symptoms.
Headaches. – Everyday since I was 18.  Seriously.  Except for that one year when I went to the chiropractor 3 times a week.  Which seriously helped the headaches go away.  However, I quit going because it was quite pricey and also I was honestly terrified he was going to snap my neck.  Seriously, it terrified me.  Maybe I've watched a little too many crime dramas with people getting their necks snapped, but still.  The "crack-a-lack-a-lack" in the neck region really scares the poo out of me!  So as soon as I stopped my appointments the headaches came back and I get at least 3-5 every week.
Constipation. – Maybe a little TMI, but my guess is everyone suffers from some type of bathroom issue from time to time.  So I can't discount this as a possible symptom of not getting enough water.
Bad Breath. – According to this article, saliva has antibacterial properties and dehydration prevents your body from making enough for it.  This leads to a virtual playground in your mouth and according to my 5 year old, who doesn't mean to be rude and just speaks the truth – I may have a little issue with bacteria causing bad breath.
Dry Skin. – Ok… well it is winter so I do suffer from dry skin a bit here and there, but I wouldn't say it's a chronic issue.  But, maybe it isn't a winter ailment after all.  Maybe it's because I'm not drinking enough water!
So after reading the entire article, identifying with most of the symptoms listed, and looking to see if the "facts" were listed on other websites – I'm self diagnosing myself with persistent dehydration.  As for the cure… water, of course.  So for the next 30 days I am going to drink nothing but water.  No sodas, no tea, and no…. sigh… Monster's.  Starting today, Monday February 20th, 2017 and going through Wednesday March 22, 2017 – I will drink nothing but water.
On an average day I drink 1 glass or bottle (probably about 10-12 ounces) of water, one or two sodas or glasses of tea (usually Starbucks – because it is sooooooo yummy), 1-2 cans of Monster if I need the pick me up and every now and then a cup of hot tea from my trusty Kuerig.  But, for the next 30 days it will be only water.  The only exception I will make is to flavor the water from time to time with Kool-Aid Liquid Drink Mix, like these: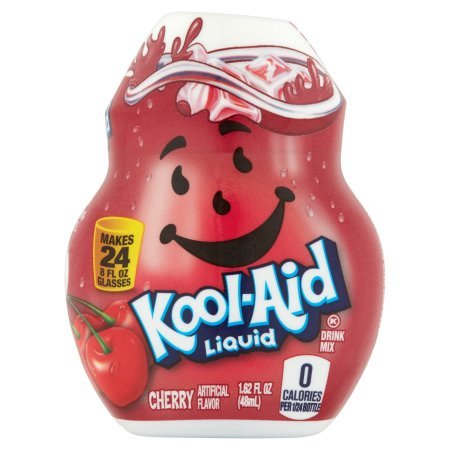 They offer a flavored water with zero calories, carbs or caffeine!  So I feel justified in adding this to my water while completing this challenge.
I would like to challenge YOU to play along!  Start today, start tomorrow – just give it a try.  Follow my journey on the Facebook page I created: 30 Day Water Challenge – Is H2O the Answer? or type in http://fb.me/H2Ofor30days in your browser page.  I'll be posting anything I notice – or don't notice – changing over the next 30 days.  I'll also include a few healthy recipe's and exercises throughout the journey – please feel free to do the same.
Look forward to seeing you out there and seeing if I notice a difference in things when only drinking water.  Now I'm off to finish my Yeti full of ice water, go potty for the 3rd time since I began writing this post, finish this episode of Smallville and maybe getting a few hours of sleep.  I'm starting our kitchen makeover this week and need the rest!
BIG Texas hugs,